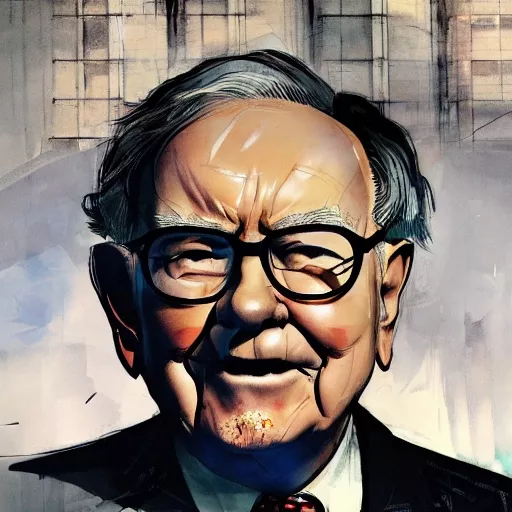 Earlier today, The Street's Tom Bemis published an article titled Warren Buffett's Berkshire Feels Banking Pain in First Quarter.
While the article provides some useful information, it may give readers the impression that Berkshire Hathaway is facing significant challenges. However, a closer look at the key facts reveals a more nuanced picture.
First, it's worth noting that Berkshire Hathaway's shares remained relatively stable during the first quarter of 2023, despite weakness in the financial sector. Although the company underperformed the S&P 500 index, which gained more than 5% during the quarter, it's important to remember that short-term fluctuations in stock prices don't necessarily reflect changes in intrinsic value.
Second, the weakness in bank shares, particularly Bank of America, did impact Berkshire Hathaway's portfolio. However, it's worth noting that even a significant drop in Bank of America's valuation would have a relatively small impact on Berkshire Hathaway's overall market capitalization. Therefore, it's important to consider the intrinsic value of the individual companies in Berkshire Hathaway's portfolio, rather than focusing solely on short-term stock price movements.
Finally, it's worth noting that some of the companies in Berkshire Hathaway's portfolio actually performed quite well during the first quarter. For example, Floor & Decor Holdings Inc rose 35.8%, while NU Holdings rose 33.7%. Apple, which is by far the largest holding in Berkshire Hathaway's portfolio, also performed well, rising 31.8%.
In short, while it's true that Berkshire Hathaway's stock price underperformed the broader market during the first quarter, it's important to consider the underlying value of the individual companies in its portfolio. As Warren Buffett has famously said, "In the short term, the market is a voting machine, but in the long term, it's a weighing machine." By focusing on long-term value rather than short-term fluctuations, investors can make more informed decisions about the companies they choose to invest in.
Warren Buffett on Investing and Stock Prices
Let's see what Warren Buffett himself has to say about falling stock prices in a CNBC interview headlined "Warren Buffett: Just Looking At The Price Is Not Investing":
That's all there is to say. In turn we can be very thankfull if the stock price of Berkshire is underperforming the S&P500 if the value of our favorite stock is appreciating over time. This provides great buying opportunities both for shareholders but also for Berhire in terms of stock buybacks.
PS: Berkshire's Shareholder Equity
Let us find out if Berkshire's intrinsic value appreciates over time.
Here's the shareholder's equity from Berkshire Hathaway's balance sheet from the last five years based on macrotrends.net (year-end numbers):
| Year | Berkshire's Shareholder Equity |
| --- | --- |
| 2018 | $353 |
| 2019 | $428 |
| 2020 | $451 |
| 2021 | $515 |
| 2022 | $481 |
As you can see, Berkshire Hathaway's shareholder's equity appreciates over time, even under harsh market conditions the last couple of years. If you are worried about 2022's drop, please have a look at the Berkshire 2022 shareholder letter or our articles in the Headquarters section.
For 2022, considerable drops in share prices have had a significant impact on Berkshire's GAAP earnings, while on the other hand the operating result has been the best in the history of the company.