Attention, shareholders of Berkshire Hathaway! Are you ready to embark on a global journey with Dairy Queen? This iconic brand has defied the odds, thriving in the midst of a pandemic and expanding its reach across the globe. From its success in China to its award-winning digital platforms, Dairy Queen is poised for even greater growth. Join us as we explore the brand's strategic expansion ventures and their implications for Berkshire Hathaway's investment portfolio. This is a journey you won't want to miss!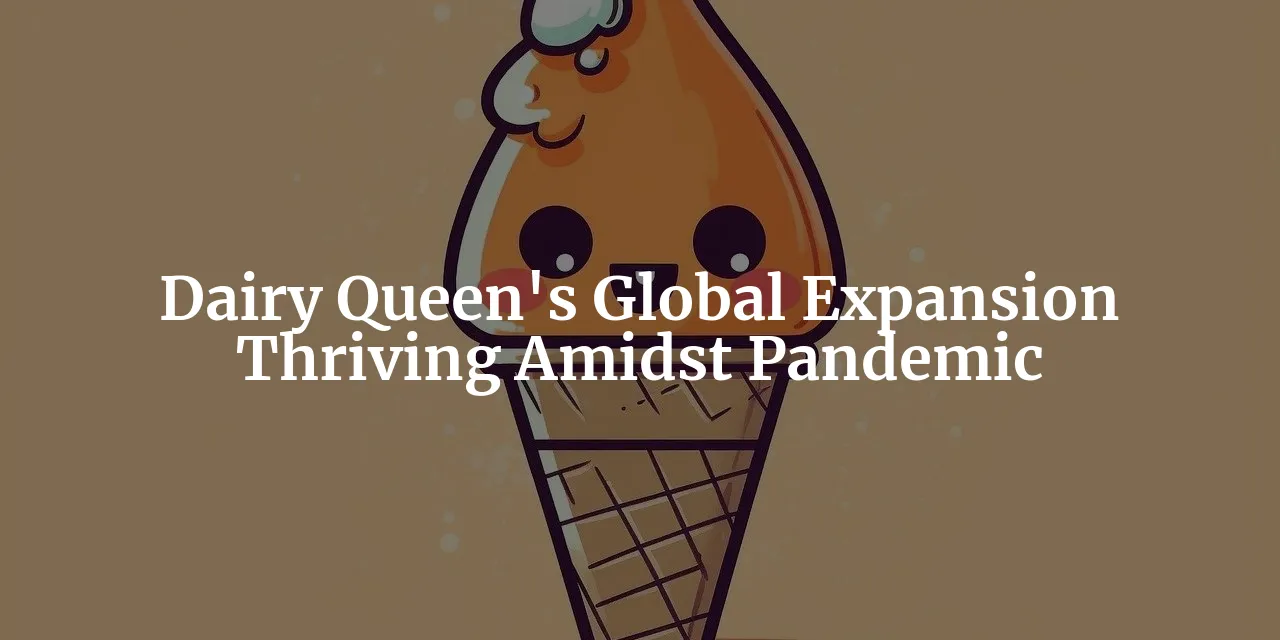 ---
Introduction
Dairy Queen, an iconic brand known for its delectable frozen treats and fast food, has been a staple of American culture since its inception in 1940. As a subsidiary of Berkshire Hathaway Inc. ↗ ↗, Dairy Queen has grown from a modest soft-serve ice cream shop to a global franchise powerhouse with over 7,000 franchised restaurants worldwide. Operating under the names DQ Grill & Chill®, Dairy Queen®, and Orange Julius®, the company has established a reputation for its variety of dairy desserts, beverages, prepared foods, and blended fruit drinks 1.
For shareholders of Berkshire Hathaway, it is essential to note that while the annual reports provide a snapshot of financial performance, they often contain limited information on the specifics of Dairy Queen's expansion strategies. To gain a more comprehensive understanding of Dairy Queen's growth, we must mostly rely on news releases from the company itself and some secondary sources. This approach, while informative, means that our perspective is shaped by the narrative Dairy Queen chooses to present, making it challenging to independently verify all claims 1.
In this article, we will delve into Dairy Queen's strategic expansion ventures, examining how the brand has leveraged its success during the pandemic to broaden its global footprint. We will explore the company's foray into new markets, the recognition of its digital platforms, and the potential for future growth. By enhancing our discussion with historical, political, and economic perspectives, we aim to provide shareholders with a nuanced view of Dairy Queen's global journey and its implications for Berkshire Hathaway's investment portfolio.
Dairy Queen's Success During the Pandemic
The COVID-19 pandemic disrupted industries worldwide, but Dairy Queen emerged as a resilient force, experiencing a significant surge in sales. In 2021, International Dairy Queen reported a revenue of approximately $225 million, an 18% increase from the previous year. The net income also saw an impressive rise, reaching $84 million, up nearly 17% from 2020. These figures are a testament to the brand's ability to adapt and thrive amid challenging circumstances 2.
Sales at comparable Dairy Queen locations rose by 10.5% in 2021, with a nearly 18% increase over the combined years of 2020 and 2021 versus 2019. This consistent growth reflects the brand's enduring appeal and the effectiveness of its strategic initiatives. One such initiative was the introduction of a new lineup of burgers, known as Stackburgers, which was backed by an aggressive advertising campaign. This move, coupled with the rollout of updated digital and delivery capabilities, including a second-generation mobile app, has positioned Dairy Queen to capitalize on the evolving consumer preferences towards convenience and digital engagement 2.
The company's ability to pivot and innovate during the pandemic has not only bolstered its financial performance but also reinforced its brand strength. The introduction of new products and the enhancement of digital services underscore Dairy Queen's commitment to staying relevant and competitive in the fast-food industry.
Expansion into China
China represents a significant growth opportunity for Dairy Queen, and the company has been making strategic moves to capture this market. In a landmark partnership with CFB Group, Dairy Queen plans to open 180 food-centric DQ® restaurants by 2034. This expansion builds on CFB Group's existing commitment to open 600 treat-centric DQ restaurants by 2030, highlighting Dairy Queen's aggressive growth strategy in the region 3.
The 500th Dairy Queen franchise in China, located in the bustling Hu Dong finance district of Shanghai, is a milestone that underscores the brand's robust presence in the country ↗. Operated by Shanghai Shida Catering Management Company, which runs more than 350 Dairy Queen sites in southern and eastern China, the expansion reflects Dairy Queen's deepening roots in the Chinese market. Since the opening of the first Dairy Queen store in Beijing in 1991, the brand has seen exponential growth, opening 271 new locations in 2011 alone, with 131 of those in China 4.
The partnership with CFB Group is particularly noteworthy as it represents the first franchise of DQ restaurants in China to offer a balanced menu of hot food and treats. This strategic move caters to the Chinese consumers' preferences and positions Dairy Queen as a versatile dining option, not just a dessert destination. The ambitious expansion plans in China are indicative of Dairy Queen's commitment to becoming a dominant player in the international fast-food industry.
Awards and Recognition for Digital Platforms
In today's digital age, a strong online presence and mobile engagement are crucial for customer retention and brand loyalty. Dairy Queen's digital platforms have not only met but exceeded expectations, winning six 2023 Awards of Excellence. The DQ App, in particular, has been recognized as one of America's Best Loyalty Programs by Newsweek for the third consecutive year 5.
The success of Dairy Queen's digital initiatives is reflected in the significant growth of the DQ rewards program, which added over two million new members and saw a 46% increase in purchase conversion. DairyQueen.com serves as the primary information hub for fans seeking details on products, promotions, and restaurant locations, while the DQ App offers exclusive deals and the latest product offerings. These platforms have become integral to Dairy Queen's marketing strategy, driving sales and enhancing the customer experience 5.
The recognition of Dairy Queen's digital platforms is a clear indication of the brand's innovative approach to customer engagement. By leveraging technology to connect with consumers, Dairy Queen has set a standard for the industry and demonstrated the value of investing in digital capabilities.
Potential Expansion into Australia
With three consecutive years of record sales, Dairy Queen is exploring new horizons, and Australia is on the radar as a potential market for expansion. CEO Troy Bader views Australia as a logical next step, given the country's cultural and economic alignment with Dairy Queen's existing markets. However, Bader is cautious, acknowledging the challenges of supply chain logistics and the need to gauge consumer affinity for the brand 6.
Australia presents a unique opportunity for Dairy Queen, with its developed economy and a population that is receptive to international food brands. However, entering a new market requires careful consideration of local tastes, competition, and operational complexities. Bader's prudence in selecting a franchise partner reflects a strategic approach to international expansion, with an openness to collaborating with private equity-owned operators 6.
The company's successful expansions into China and South-East Asia serve as a blueprint for how Dairy Queen can approach the Australian market. By learning from past experiences and adapting to the nuances of a new environment, Dairy Queen can position itself for continued growth and success in the Asia-Pacific region.
The Global Impact of Dairy Queen's Expansion
Dairy Queen's global expansion has far-reaching implications for the fast-food industry. The brand's ability to adapt to diverse markets and consumer preferences has been a driving force behind its international success. In China, for example, Dairy Queen has tailored its menu to include hot foods alongside its traditional frozen treats, reflecting an understanding of local dining habits 3.
The challenges of expanding into new markets are manifold, including navigating different regulatory environments, cultural nuances, and competitive landscapes. However, Dairy Queen's strategic partnerships and careful market analysis have allowed it to overcome these hurdles and establish a strong international presence. The comparison of Dairy Queen's performance in various regions highlights the brand's versatility and the effectiveness of its localized strategies.
As Dairy Queen continues to expand, it will need to remain attuned to global trends, such as the increasing demand for convenience and the growing importance of digital engagement. The brand's ability to innovate and evolve will be crucial in maintaining its competitive edge in the fast-paced food industry.
Future Plans and Opportunities
Looking ahead, Dairy Queen's potential for expansion seems boundless. The brand could explore new venues, such as Latin America or the Middle East, where there is a growing appetite for American fast-food brands. Market trends suggest that consumer preferences are shifting towards healthier options and sustainability, areas where Dairy Queen could innovate and differentiate itself 6.
The food industry is constantly evolving, and Dairy Queen's willingness to embrace change and experiment with new concepts will be key to its future growth. Whether it's through the introduction of plant-based menu items or the adoption of eco-friendly practices, Dairy Queen has the opportunity to lead the way in industry transformation.
Conclusion for Shareholders of Berkshire Hathaway
For shareholders of Berkshire Hathaway, Dairy Queen's expansion ventures represent a bright spot in the conglomerate's diverse portfolio. The global success of Dairy Queen not only contributes to the financial performance of Berkshire Hathaway but also enhances its reputation as a company with a keen eye for value and growth potential.
The implications of Dairy Queen's international expansion are significant. It demonstrates the brand's resilience, adaptability, and forward-thinking approach to business. As Dairy Queen continues to explore new markets and embrace digital innovation, it is poised to make an even greater impact on Berkshire Hathaway's investment in the food industry and, by extension, on shareholder value.
In conclusion, Dairy Queen's global journey is a testament to the power of strategic expansion and brand evolution. As shareholders, we can look forward to the continued success of this beloved brand and its contributions to the enduring legacy of Berkshire Hathaway Inc.
References