Attention Berkshire Hathaway shareholders! Get ready to dive into the exhilarating world of American Express's record-breaking performance in Q3 2023. With soaring revenue, robust growth across all segments, and Warren Buffett's multibillion-dollar stake, this article is a must-read for those looking to understand the implications for their investment portfolio. Discover how American Express's trajectory aligns with Buffett's philosophy and the exciting partnership between the two iconic entities.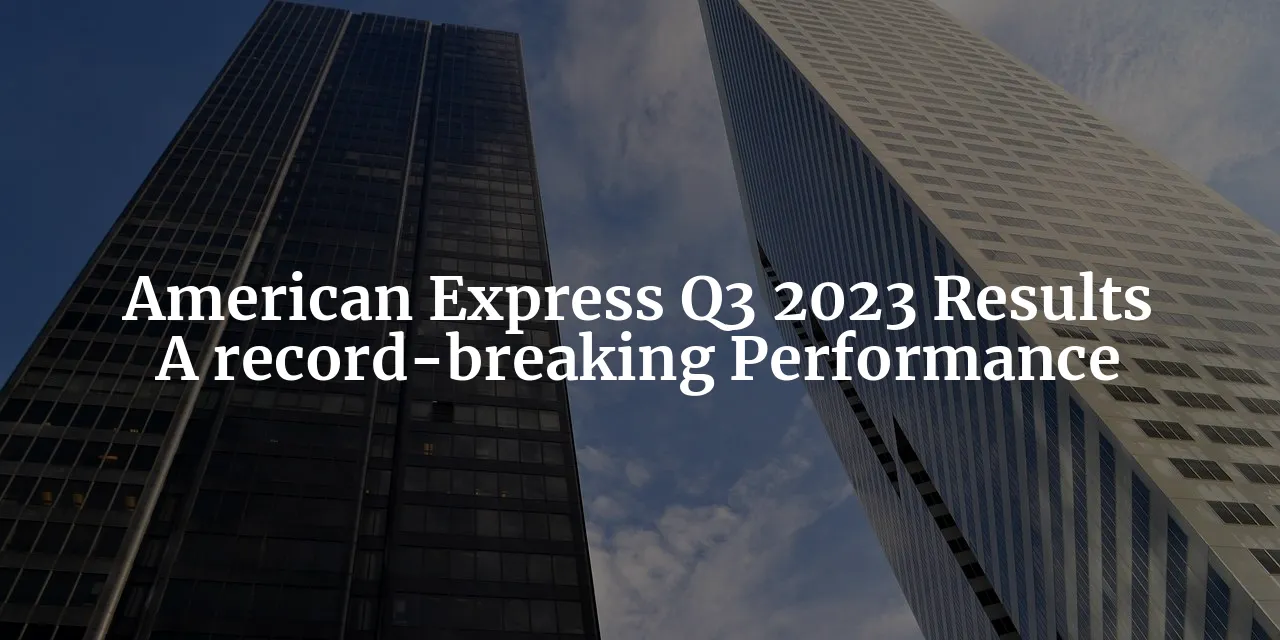 ---
Introduction
In the dynamic landscape of the financial services industry, few names command the same level of respect and recognition as American Express Company (Amex). With its iconic gladiator logo symbolizing strength and security, Amex has navigated through the ebbs and flows of economic cycles, emerging as a titan in the realm of payment cards. Ranked 77th on the Fortune 500 and 28th on Forbes' list of the most valuable brands, American Express's storied history began in 1850, evolving from a freight forwarding company to a multinational financial services powerhouse.
For shareholders of Berkshire Hathaway, the performance of American Express is not merely a headline on the financial pages; it is a critical component of their investment portfolio. The sage of Omaha, Warren Buffett, has long demonstrated his conviction in American Express's enduring value, with a stake currently worth a staggering $23.4 billion. This investment represents 7.05% of Berkshire Hathaway's entire stock portfolio, marking it as the third-largest holding and underscoring its significance.
Buffett's relationship with American Express is not a fleeting affair. It began in Q4 1998, and since then, he has strategically bought shares nine more times and sold on eight occasions. The stake, which cost Buffett $8.42 billion, has appreciated by 178%, a testament to his investment acumen and the company's robust growth trajectory.
American Express Q3 2023 Financial Performance
The third quarter of 2023 was nothing short of spectacular for American Express. The company reported its sixth consecutive quarter of record revenue, soaring to $15.4 billion, a 13% increase from the previous year ↗. This financial feat was accompanied by a 34% rise in earnings per share, hitting a record of $3.30. Such numbers not only reflect the company's operational excellence but also its ability to capitalize on market opportunities and consumer trends effectively.
A deeper dive into the earnings report reveals that Total Card Member spending was up by 7% on an FX-adjusted basis from a year earlier. This growth is even more impressive among the younger demographics, with spending by Millennial and Gen Z consumers in the U.S. surging by 18%. This uptick is indicative of American Express's strategic positioning and its appeal to the next generation of consumers.
The company's diverse business segments all reported robust growth. U.S. Consumer Services saw a 16% increase in third-quarter pretax income, amounting to $1.6 billion. Commercial Services was not far behind, with a 10% increase to $852 million. The most remarkable performance, however, came from International Card Services, which witnessed a staggering 133% increase in pretax income to $387 million. Finally, Global Merchant and Network Services also enjoyed a 24% rise, totaling $986 million.
American Express Global Business Travel Q3 2023 Results
The impressive performance of American Express extends beyond its core card services. The American Express Global Business Travel division reported strong Q3 2023 revenue growth and positive year-to-date cash generation ↗. This segment saw a 17% increase in revenue and a 135% rise in Adjusted EBITDA compared to Q3 2022. The cash provided by operating activities reached $135 million, with Free Cash Flow totaling $107 million for the quarter.
Financial prudence is evident in the division's reduced leverage ratio, which now stands at 2.7x. This fiscal responsibility has led to reduced interest rates beginning in Q4 2023, further strengthening the company's financial position. The LTM Total New Wins Value was reported at $3.3 billion per annum, complemented by a 95% LTM customer retention rate. Total transactions grew by 9% versus Q3 2022, and the Adjusted EBITDA margin was up by 9 percentage points. The net loss margin also showed significant improvement of 14 percentage points compared to the same quarter in the previous year.
American Express Company Overview
American Express's global presence is formidable, with 133.3 million cards in force worldwide as of December 31, 2022. The company's headquarters, located at 200 Vesey Street in the heart of Battery Park City, Lower Manhattan, stands as a beacon of financial innovation. As the fourth-largest card network globally based on purchase volume, American Express handled over $1.5 trillion in 2022 alone, with an average spending per card member of $23,496.
The company's journey from a freight forwarding entity to a financial colossus is a narrative of strategic transformation. The introduction of the first paper charge card in 1958 marked the beginning of a new era for Amex. Over the years, it has maintained a 4.61% worldwide market share by payment volume, a reflection of its enduring brand value and customer loyalty.
Stock Performance and Market Cap
The stock performance of American Express is a barometer of investor confidence and market perception. Trading on the NYSE under the ticker symbol AXP, the stock price as of the latest data stood at $154.38, reflecting a 1.32% increase as of November 10th 2023. With a market cap of about $112 billion, American Express holds a significant position in the financial sector. The 52-week range of $140.91 to $182.15 offers a glimpse into the stock's volatility and the opportunity it presents to investors.
In comparison to its peers, American Express's market cap is a testament to its scale and influence. It is not just a measure of the company's value but also an indicator of its ability to innovate, adapt, and grow in a competitive landscape.
Warren Buffett's Stake in American Express
Warren Buffett's investment in American Express stands as a cornerstone of Berkshire Hathaway's portfolio. The stake, which represents 21% of the outstanding American Express stock, is a clear indicator of Buffett's belief in the company's long-term prospects. His initial investment has burgeoned into a multibillion-dollar holding, reflecting both the growth of American Express and Buffett's investment prowess.
The historical timeline of Buffett's transactions with American Express stock tells a story of calculated decisions and market foresight. From his first trade in Q4 1998 to the subsequent buys and sells, each move has been a step in building a substantial and profitable stake in the company.
Conclusion: Implications for Shareholders of Berkshire Hathaway
For shareholders of Berkshire Hathaway, the Q3 2023 results of American Express are a harbinger of positive tidings ↗. The company's record-breaking performance and robust growth across all segments bode well for the value of Berkshire's investment. The future outlook for American Express, with its strategic positioning and strong financials, suggests a continued positive influence on Berkshire Hathaway's investment strategy.
The relationship between Warren Buffett and American Express is more than a mere financial stake; it is a partnership built on mutual respect and shared values of customer service and financial integrity. For Berkshire Hathaway shareholders, this relationship is not only a source of pride but also a significant contributor to their investment returns.
As we reflect on American Express's soaring performance and its implications for Berkshire Hathaway, it is clear that the company's trajectory aligns well with Buffett's philosophy of buying and holding fundamentally strong businesses. The shareholders of Berkshire Hathaway can take comfort in the fact that their investment is in capable hands, with American Express continuing to chart a course of prosperity and resilience.
References