Calling all shareholders of Berkshire Hathaway! Get ready to raise your glasses and toast to Coca-Cola's Q3 2023 results and exciting news. This article takes you on a journey through the company's impressive growth, financial achievements, and strategic initiatives that have positioned it as a global beverage behemoth. From net revenue growth to sustainable packaging and innovative partnerships, Coca-Cola is fizzing with success and bubbling with potential. So sit back, relax, and join us in celebrating the company's continued prosperity and the anticipation of what the future holds. Cheers to Coca-Cola and its shareholders!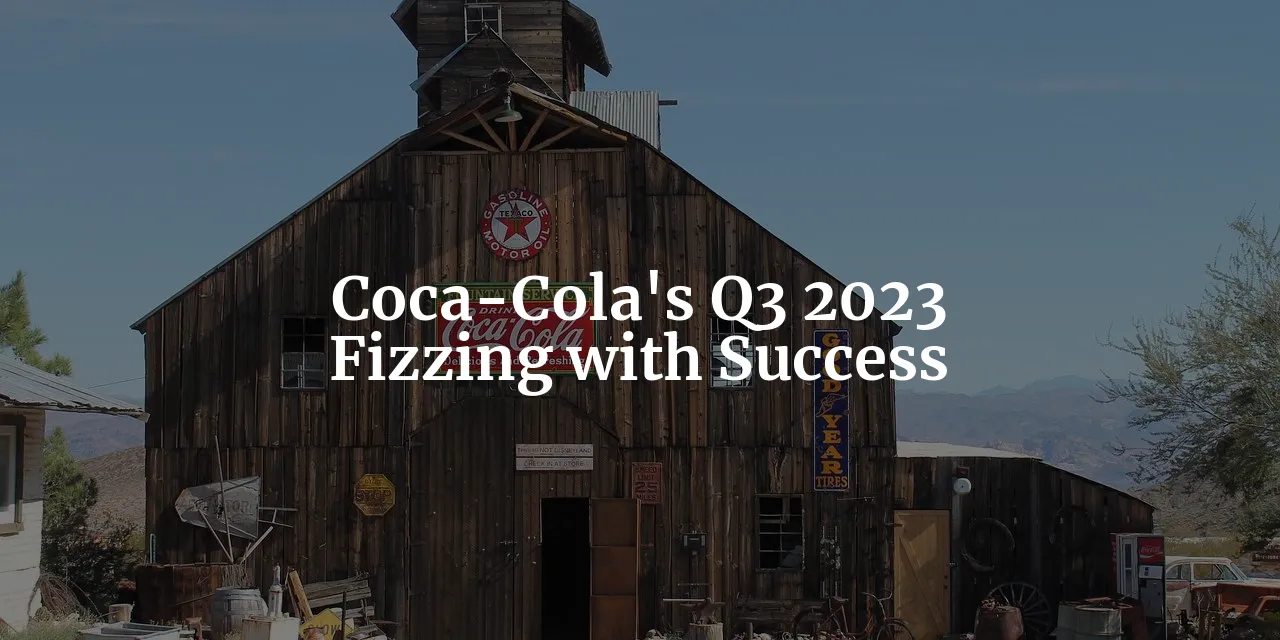 ---
Introduction
As a global beverage behemoth, Coca-Cola stands as a testament to enduring success in a rapidly evolving market. With a brand recognized in every corner of the globe, its products serve as a universal language of refreshment and enjoyment. For shareholders, particularly those of Berkshire Hathaway, which has long held a significant stake in the company, the analysis of Coca-Cola's quarterly results isn't just a routine check-in; it's an appraisal of a vital component of their investment portfolio. The Q3 2023 results are more than numbers on a page; they are indicators of the company's adaptability, strategic prowess, and potential for sustained growth. As we delve into these results, we'll explore not only the financial metrics but also the strategic initiatives that underpin Coca-Cola's continued dominance in the beverage industry.
A Taste of Growth
Coca-Cola's Q3 2023 net revenue growth of 8% to $12.0 billion is a clear signal of the company's robust health and its ability to navigate the complexities of the global market. This impressive growth is not an isolated figure but a continuation of a trend that has seen the company expand its reach and deepen its market penetration. The 11% organic revenue growth is particularly noteworthy, as it strips away the noise of currency fluctuations and one-off events to reveal the underlying strength of Coca-Cola's core business operations. This growth is a testament to the company's innovative spirit and its unwavering commitment to meeting consumer demands.
The positive uptick in global unit case volume by 2% may seem modest, but in the context of a mature and highly competitive industry, it represents significant forward momentum. It's the outcome of strategic market expansions and a keen understanding of consumer preferences. Each percentage point of volume growth reflects millions of individual choices by consumers to reach for a Coca-Cola product, a choice influenced by the company's powerful marketing, extensive distribution, and product innovation.
Financial Achievements
Coca-Cola's financial achievements in Q3 2023 are a testament to the company's operational excellence. A 6% growth in operating income demonstrates the company's ability to convert revenue growth into tangible profits, a critical factor for shareholder value. The comparable currency neutral operating income growth of 13% further highlights the company's proficiency in managing its international operations amidst fluctuating exchange rates, ensuring that the core business remains on a growth trajectory regardless of external economic pressures.
The slight dip in operating margin from 27.9% to 27.4% is overshadowed by the improvement in comparable operating margin, which rose from 29.5% to 29.7%. This nuanced financial metric is crucial, as it reflects the company's ability to control costs and optimize profitability. It's a balance of art and science, where strategic investments are weighed against cost-saving measures, all while maintaining the quality and appeal of the product offering.
Earnings Per Share (EPS) Success
For shareholders, the growth in Earnings Per Share (EPS) is a direct measure of the return on their investment. The 9% increase in EPS to $0.71 is a robust indicator of financial health and shareholder value creation. The comparable EPS, a more refined measure that adjusts for one-time items and other non-recurring events, grew by 7% to $0.74, reinforcing the company's reputation for delivering consistent, reliable growth.
This EPS success is a culmination of strategic decisions, efficient operations, and market acumen. It sends a clear message to shareholders that their investment is not only secure but also growing. It's a reflection of Coca-Cola's ability to navigate market uncertainties, capitalize on opportunities, and deliver on its promises to those who have placed their trust in the company's vision and leadership.
Gaining Value Share
In the competitive arena of nonalcoholic ready-to-drink (NARTD) beverages, gaining value share is akin to winning a strategic battle. Coca-Cola's success in this area is a testament to its brand strength, product innovation, and marketing prowess. Value share isn't just about selling more; it's about capturing the hearts and wallets of consumers in a way that outpaces competitors. It's a sign that Coca-Cola is not just keeping up with market trends but setting them.
The importance of this achievement cannot be overstated, as it lays the foundation for future growth and profitability. It also serves as a barometer for consumer sentiment and brand loyalty, both of which are critical in an industry where new players and alternative choices are constantly emerging. Coca-Cola's ability to gain and maintain value share is a reassuring signal to shareholders that the company remains at the forefront of the beverage industry.
Sustainable Packaging and Environmental Initiatives
Coca-Cola's commitment to a World Without Waste reflects a corporate conscience attuned to the environmental impact of its operations. The pursuit of sustainable packaging goals is not merely a response to regulatory pressures; it's a proactive strategy that aligns with the values of increasingly eco-conscious consumers. By scaling packaging innovations and increasing the availability of packages with recycled materials or reusable containers, Coca-Cola is not just reducing its environmental footprint but also building a competitive advantage.
These initiatives are critical in today's marketplace, where sustainability can drive consumer preference and brand loyalty. Coca-Cola's efforts in this area demonstrate a long-term vision that balances profitability with planetary stewardship, a combination that is increasingly demanded by consumers, investors, and regulators alike ↗. It's a forward-thinking approach that positions Coca-Cola as a leader not only in the beverage industry but also in the global movement towards sustainability.
Exciting Innovations and Partnerships
Coca-Cola's activation of a system-wide campaign for the FIFA Women's World Cup 2023 (TM) is a strategic move that leverages the universal language of sports to connect with consumers on a global scale. This initiative, particularly impactful in the Asia Pacific region, demonstrates the company's ability to tap into cultural moments to drive brand engagement and product consumption. It's a showcase of Coca-Cola's marketing acumen and its commitment to being present in the moments that matter to consumers.
At the NACS 2023 Show, Coca-Cola's display of brand and equipment innovation, digital capabilities, and research insights underscored its relentless pursuit of market leadership. The unveiling of new beverage innovations like Coca-Cola Raspberry Spiced and Sprite Chill is a direct response to evolving consumer tastes and a desire to stay ahead of the curve. These product introductions, along with the company's focus on sustainable packaging and digital engagement, are a powerful combination that drives both consumer excitement and retailer partnership.
Economic Contributions and Community Programs
The Coca-Cola system's U.S. economic contributions in 2022, valued at $57.8 billion, are a testament to the company's significant role in the American economy. Supporting over 854,000 jobs across a range of sectors, Coca-Cola is not just a beverage producer; it's a vital cog in the economic machine. The system's multiplier effect, where each direct job supports nine additional jobs, illustrates the extensive reach of Coca-Cola's economic impact.
The company's investments in the U.S. economy, through the purchase of goods and services from American suppliers, totaled $27.8 billion, reinforcing its role as a major economic contributor. Moreover, the combined contributions of $127 million to community programs in 2022, focusing on a range of social and environmental causes, reflect Coca-Cola's commitment to corporate citizenship and social responsibility.
Conclusion: A Toast to Shareholders of Berkshire Hathaway
In summary, Coca-Cola's Q3 2023 results and news paint a picture of a company that is not only fizzing with success but also bubbling with potential. For shareholders of Berkshire Hathaway, these results should be a source of confidence and optimism ↗. The company's growth, financial achievements, sustainable initiatives, and exciting innovations are all indicators of a business that is well-positioned for the future.
Coca-Cola's ability to navigate the complexities of the global market, while maintaining a steadfast commitment to innovation and sustainability, is a reassuring sign for investors ↗. As we raise our glasses to toast the company's success, we do so with the expectation of continued prosperity and the anticipation of what the next chapter will bring for Coca-Cola and its shareholders.
References