Calling all Berkshire Hathaway shareholders! Get ready to dive deep into the Q2 2023 earnings of Pilot, the travel center operator that Berkshire Hathaway has a controlling interest in. This article takes you on a journey through Pilot's rise to prominence, Berkshire Hathaway's growing interest, and the unveiling of Pilot's impressive earnings. We'll explore the challenges faced and the future opportunities that lie ahead. So grab your popcorn and join us on this thrilling ride fueled by success!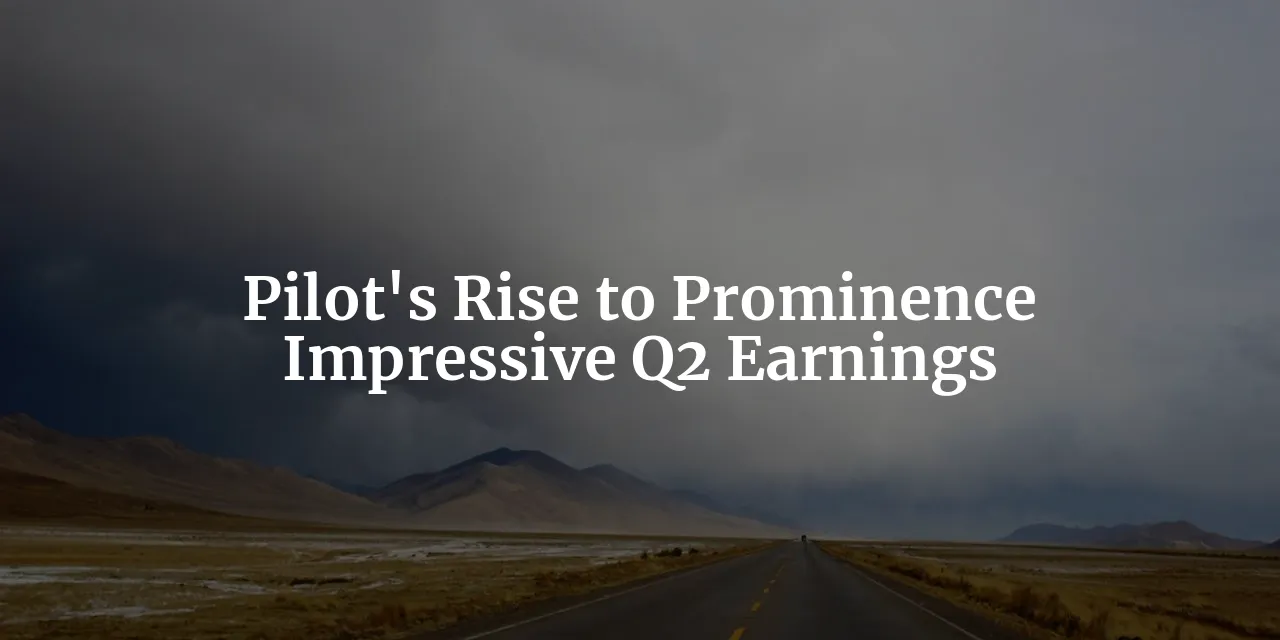 ---
Introduction
Berkshire Hathaway, a globally-renowned multinational conglomerate, has once again demonstrated its strategic prowess with a significant 80% controlling interest in Pilot. This article provides an in-depth analysis of Pilot's Q2 2023 earnings, a crucial factor for Berkshire Hathaway shareholders. In the dynamic world of business, Pilot's performance serves as an intriguing chapter in the conglomerate's financial narrative, shaping its overall financial health.
Section 1: The Rise of Pilot
Pilot, headquartered in Knoxville, Tennessee, has emerged as a leading travel center operator in North America. Operating under the names Pilot or Flying J, the company boasts an extensive network of over 650 travel centers across the U.S ↗. and six Canadian provinces, along with over 150 retail locations in both countries1.
Pilot's revenue streams primarily emanate from fuel marketing on both wholesale and retail levels, as well as other energy-related activities1. The company's strategic positioning in the energy sector and its expansive presence across North America underscore its vital role in the continent's transportation and logistics industry.
Section 2: Berkshire Hathaway's Growing Interest
Berkshire Hathaway's involvement with Pilot began with a 38.6% interest, which expanded to an 80% controlling stake after acquiring an additional 41.4% interest on January 31, 20231. This significant increase in ownership marked a strategic move by Berkshire Hathaway, reflecting its confidence in Pilot's potential and its commitment to fueling the company's growth.
The decision to consolidate Pilot's results of operations from February 1, 2023, further underscores Berkshire Hathaway's strategic alignment with Pilot1. This move not only simplifies the financial reporting process but also provides a clearer picture of Pilot's impact on Berkshire Hathaway's overall performance ↗.
Section 3: Unveiling Pilot's Q2 2023 Earnings
Pilot's Q2 2023 earnings report reveals a robust financial performance, with $186 million in pre-tax earnings and $14.8 billion in revenues1. A significant contributor to these earnings was the sale of approximately 9.25 billion gallons of fuel-related products in the first six months of 20231.
These impressive figures had a direct impact on Berkshire Hathaway's net earnings attributable to Pilot, which amounted to $114 million for Q2 20231. This demonstrates the substantial contribution of Pilot to Berkshire Hathaway's overall financial performance, reinforcing the strategic value of the conglomerate's controlling interest in Pilot.
Section 4: A Comparative Analysis
Comparing Pilot's Q2 2023 earnings to the same period in 2022, there was a decrease in pre-tax earnings from $241 million to $186 million1. This decline can be attributed to higher operating and other expenses, including significant depreciation and amortization charges1.
Despite the decline, Pilot's Q2 2023 earnings still had a positive impact on Berkshire Hathaway's overall financial performance. However, the decrease in earnings serves as a reminder of the dynamic nature of the business environment and the need for continuous strategic adjustments.
Section 5: Fueling the Future
Pilot's revenues for the five months ending June 30, 2023, totaled $24.3 billion, increasing to $29.3 billion for the first six months of 20231. These figures reflect the company's strong market position and its ability to generate substantial revenues despite the challenging business environment.
Looking ahead, Pilot presents several growth opportunities. Expanding its travel center and retail locations, as well as enhancing its energy-related activities, could further bolster its revenues. Berkshire Hathaway, with its strategic acumen and financial resources, is well-positioned to maximize Pilot's potential and generate long-term value for its shareholders.
Section 6: Navigating Challenges
Despite its strong performance, Pilot faced challenges such as increased interest expenses of $62 million in Q2 2023 and $115 million for the first six months of 2023, compared to the previous year1. These increased costs pose a potential threat to Pilot's profitability and, by extension, Berkshire Hathaway's overall financial performance.
However, Berkshire Hathaway and Pilot's management have a track record of successfully navigating such challenges. Through strategic planning and effective cost management, they aim to mitigate these challenges and ensure sustainable growth.
Conclusion: A Journey Fueled by Success
In summary, Pilot's Q2 2023 earnings hold significant implications for Berkshire Hathaway shareholders. Despite facing some challenges, Pilot continues to contribute substantially to Berkshire Hathaway's financial performance, thanks to its robust revenues and strategic operations.
Looking ahead, Pilot's operations present numerous growth opportunities ↗. With Berkshire Hathaway's increased ownership and strategic initiatives, Pilot is well-positioned to maximize its potential and generate long-term value for shareholders. As we continue this journey fueled by success, we remain optimistic about Pilot's future and its continued contribution to Berkshire Hathaway's success.
Reference